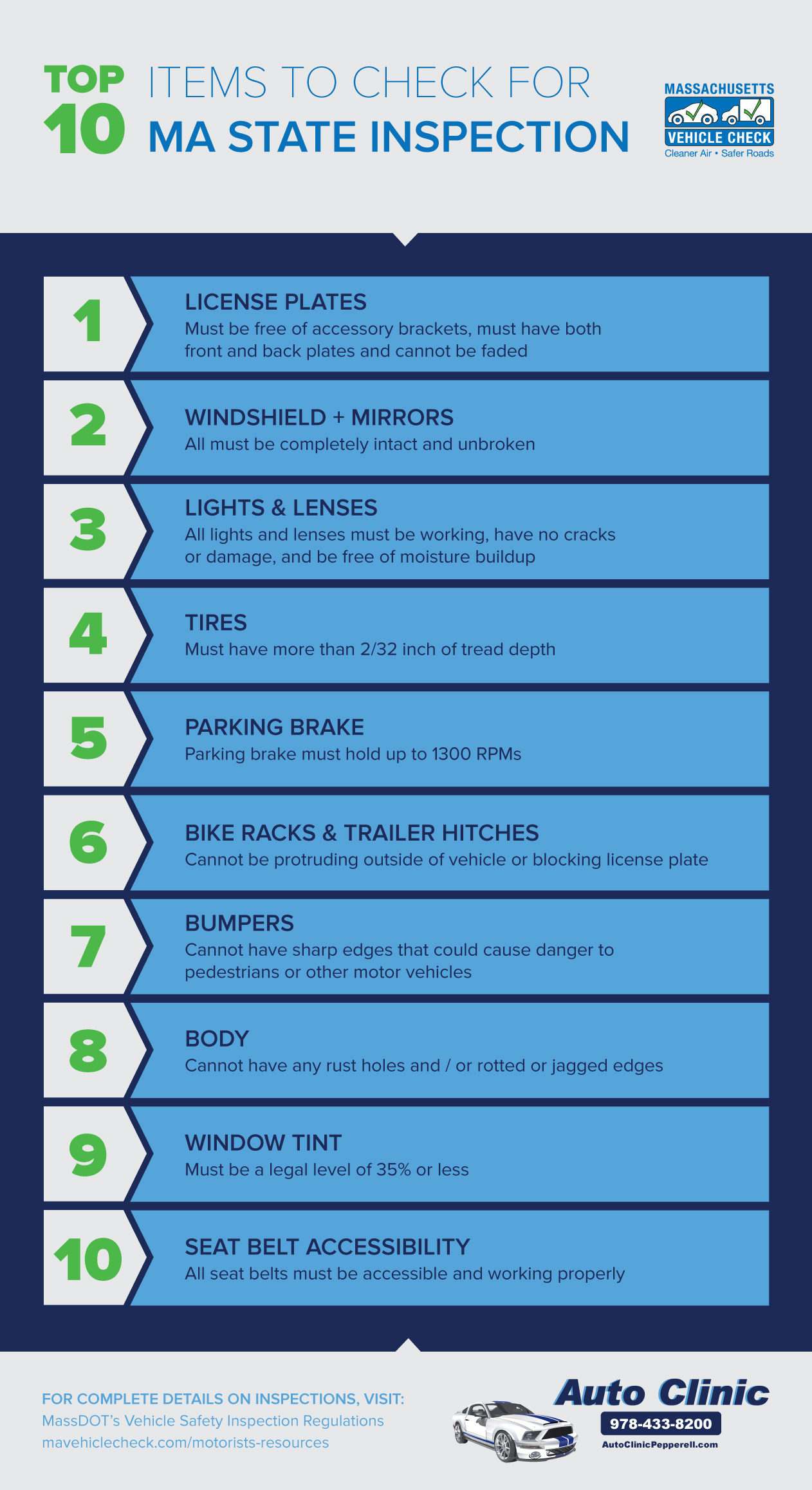 Massachusetts State Inspection, commonly known as a "sticker", is an annual inspection to make sure your vehicle is safe for the road, according to Massachusetts standards. Below is a list of items you can make sure is checked off to save you time when you go to get your sticker.
Couple things to know beforehand:
State Inspections are taken on a first come, first serve basis. This means you cannot make an appointment ahead of time, and if you wait until the end of the month to get a sticker, you might find yourself waiting in a pretty long line!
You will need a valid and current vehicle registration, and your keys
The inspection fee is $35
Each inspection takes about 25 minutes
Here are the top 10 most common items needed to pass for a state inspection. Making sure you check these items off your list will save you time getting your inspection.
1. License plates: must be free of accessory brackets, must have both front and back plates and plates cannot be faded
2. Windshield and mirrors: all must be completely intact and cannot be broken
3. Lights and lenses: all lights and the housing lenses must be functioning properly, have no cracks, and have no moisture buildup within the lenses
4. Tires: tread depth of the tires must be greater than 2/32 of an inch
5. Parking brake: parking brake must hold up to 1300 RPMs
6. Bike racks & trailer hitches: cannot be protruding outside of vehicle or blocking license plate (it is best to remove these items before you go in for a state inspection)
7. Bumpers: cannot have any sharp edges that could cause danger to pedestrians or other motor vehicles
8. Body: cannot have any rust holes and / or rotted or jagged edges
9. Window tint: must have a legal visibility of 35% or less
10. Seat belt accessibility: all seat belts must be accessible and working properly
For complete details on State Inspection Regulations, please click here